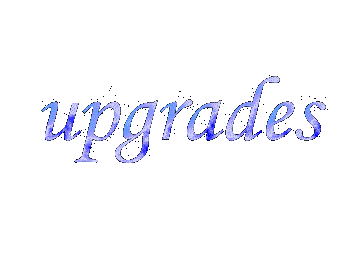 All upgrade prices are guaranteed low. If you find a cheaper price for any minor upgrade and we will meet or beat it.
Minor Upgrades
| | |
| --- | --- |
| Power Supply install | $30.00 |
| Operating System install | $40.00 |
| Virus Removal | $30.00 |
| DVD-ROM/CD-ROM/CDRW drive installation | $40.00 |
| Sound card/Video card install | $30.00 |
| Ram Upgrade | $20.00 |
| CPU Upgrade | $30.00 |
| Hard drive installation | $40.00, Data transfer add $15 |
| Modem installation | $30.00 |
| Scanner installation | $15 |
| Software installation | $10 per software title |
| Network Card installation | $30.00 |
| I/O card install | $30.00 |
| Storage drive installation (jaz, zip etc.) | $25.00 |
Major Upgrades
| | |
| --- | --- |
| Complete transfer of system components from one case to another | $80.00 |
| Mother board install | $60.00 |
| Complete system assembly | $150.00 |
| Home Network Setup (one room) *** | $100.00 |
All customers wanting upgrades must be local to the Memphis, TN area.
Prices are for labor only. Parts are sold separately.
You must have the parts before hand or pay the store fee****.
Minor upgrades or Mother board installations will
not be performed on a 486 or older, unless new motherboard supports a greater CPU
than a 486, in such case a new CPU and RAM may also have to be installed
which at that point customer will be charged for each installation
separately, and the greater motherboard and processor must at least be
a 233mhz Pentium or faster. There are no refunds for labor. Installations
are guaranteed for 30 days that they have been performed correctly.
This does not include defective parts. If an upgrade cannot be performed because of defective parts or computer
a minimum labor fee of $10 will be charged for the attempt. Defective
parts installed may be replaced with a new part once obtained for an extra
fee of $10. A test will be run before and after each upgrade. If the customer
signs both tests then the customer is stating that the upgrade was done right
and the computer was working properly at the time of completion and the
customer is responsible for all problems not related or occurring after
the upgrade was performed. The customer is responsible for all software
installed on the computer beforehand and must take whatever steps necessary
to back up all data before the upgrade has been performed. Computers
which show signs of abuse, or show signs of poor care, or are infested
with insects, rodents, etc will not be worked on at all.
*** Home network setup price is for one room only, to run
cables to other rooms, and through walls will have an extra
$40 an hour charge. Home network setup is for Windows based
PC's using Ethernet only. Local customers only.

**** If a part is not already obtained by the customer,
and can be purchased at a local store, The customer may choose to
pay a store fee to have the technician drive to the store to purchase
the part for the customer. In such case the customer is responsible
for paying for all products purchased.

Best if viewed in at least 1024x768 resolution or higher
Click here to submit your site to the search engines for free!